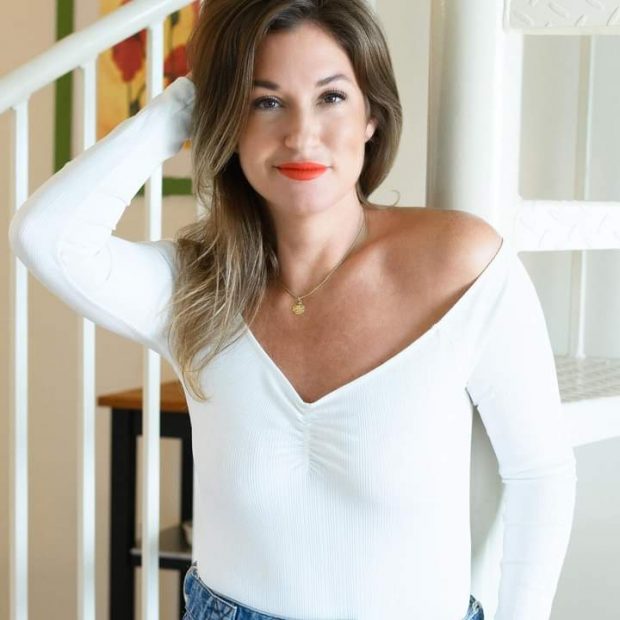 By Victoria Sawyer
After breaking her wrist in a snowboarding accident in 2016, entrepreneur Lara Colucci had a hard time dressing herself, much less putting on a bra, so she started wearing pasties as a way to have some sort of coverage.
As many of us know, we tend to familiarize ourselves with pasties from burlesque, cabaret shows or even circus & festival acts (insert Miley Cyrus & Lil Kim award show fashion here) but pasties have been a long-time behind-the-scenes act, especially in the fashion world.
Traditional pasties look like circular bandages, designed to do one thing — cover up the nipple under select garments where bras won't do or for the woman who just wants to remain bra-free.
However, Colucci thought differently about the traditional design & use.
"The problem with other nipple covers is they either worked terribly (puffy nipples, chicken cutlet boobs, Band-Aid tape that left a rash) or they LOOKED terrible. I was used to feeling confident and celebrating my body, and the products that existed at the time made me feel something else — like I was hiding my nipples in a way that was kind of shaming. It's hard to explain unless you've been there, but putting tape over your nipples doesn't look great, and on a deeper level, it doesn't feel great," explains Colucci.
With that vision, Colucci began putting in the work. "I designed Lollipetals for one main reason. I loved not wearing a bra, but I wanted a better solution than what existed." That better solution was a functional, patent pending & innovative version of the nipple cover. One that's:
Made from silicone opposed to bandage-like fabric – this results in a smoother look under clothes, larger circumference area (better coverage) and doesn't leave a rash.
Reusable – up to 20 wears opposed to one-time usage from traditional pasties.
Fashionable – these pasties were designed to be embraced, for the woman to feel comfortable, confident and ultimately to be shown, if she wanted them to.
Empowerment – these aren't just for the fashion-forward woman — they are for the 16-year-old to the everyday working woman, the stay-at-home mom, or grandmother of five.
"My favorite thing about sharing Lollipetals with women is hearing their reactions after wearing them for the first time. Lollipetals are fun, they can be sassy too, but ultimately, they make you feel beautiful, powerful and bold. And that's what I truly wanted to achieve. Lollipetals… we're a new way to lingerie."
And some may think 2020 isn't the perfect time to have such a product since bras have practically been cancelled along with everything else. However, us women still need coverage for that random conference call that could've been emailed or FaceTime with the cousin who's been trying to get everyone to wear his shirts at the family reunion.
With its fashionable design & versatile functions, you can expect to see Lollipetals at Fashion Weeks, festivals such as Coachella & Burning Man, and in major specialty stores soon.
The post A New Way to Lingerie – Meet Lollipetals appeared first on Home Business Magazine.
Original source: https://homebusinessmag.com/success-stories-lifestyles/new-way-lingerie-meet-lollipetals/