When you think of R&B, one of the first groups that comes to mind is Boyz II Men. Throughout their illustrious career that spans almost three decades, they have sold a whopping 64 million albums and are renowned as the best-selling R&B group of all time. Boyz II Men have also earned many accolades, including 4 Grammy Awards, 9 American Music Awards, and a star on the Hollywood Walk of Fame! Now, the legendary R&B trio is making waves in the non-profit arena with their charity, Boyz II Men House.
It is amazing that even though Boyz II Men is very busy with their career—before the COVID-19 pandemic, they've held an acclaimed residency at the Mirage Resort and Casino in Las Vegas since 2013—they still find the time to help better the community. Their charity, Boyz II Men House, lends support to individuals and organizations that focus on improving quality of life and helping to unlock human potential, while contributing to the health and vitality of those less fortunate.
So besides giving fans a rich catalogue of timeless hits filled with smooth harmonies and enduring themes to this day, Boyz II Men are truly helping to make the world a better place! Home Business Magazine recently had the opportunity to catch up with Boyz II Men member Shawn Stockman, who was happy to discuss what inspired them to launch their charity. He also shared tips for entrepreneurs who want to start and run their own non-profit, memories from Boyz II Men's eminent career, and more!
HBM: You all started a charity called Boyz II Men House. Can you tell us about the charity's mission?
SS: "Our mission is to support causes that are important to us and impact our family, friends, fans and community. Also, as a father who has a son with autism, my wife and I created a charity, Micah's Voice, to help and support families affected by autism."
HBM: What inspired you all to launch a non-profit? 
SS: "Growing up and throughout our careers, we had to work hard so we've never taken our success for granted. It has made us realize that so many people look up to us for inspiration, so we make it one of our goals to give back. This is why we created the Boyz II Men House."
HBM: What tips do you have for other entrepreneurs who want to start and run their own charity?
SS: "Be authentic. Find a cause you're passionate about and put 110% into it."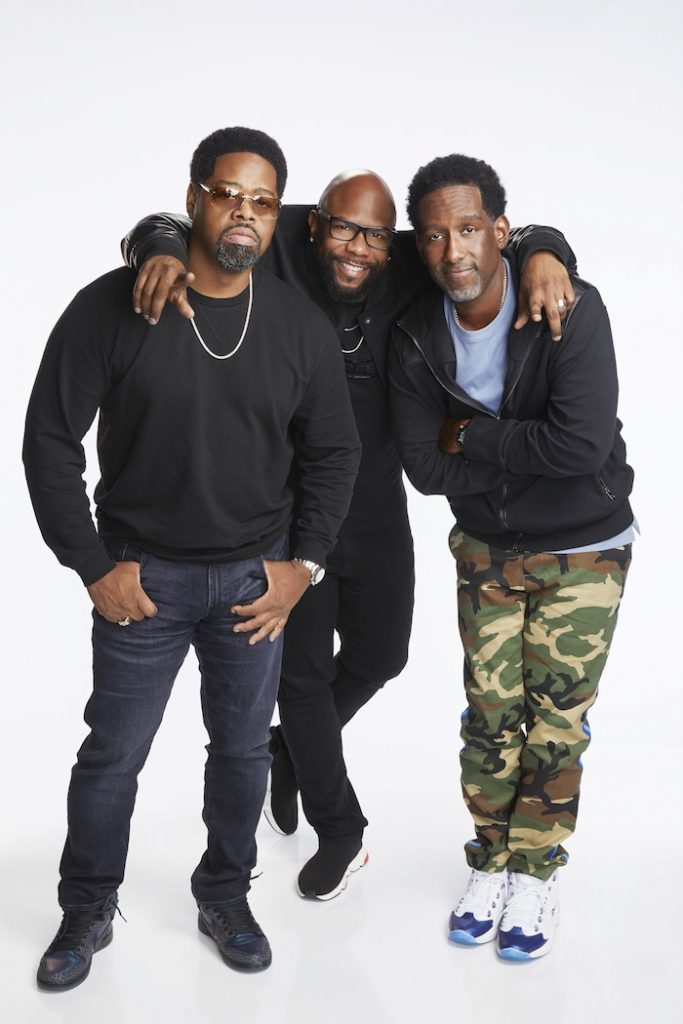 HBM: Boyz II Men is the best-selling R&B group of all time. What have been some of your favorite memories from your eminent career? 
SS: "There are so many incredible memories from our nearly 30 years as a group. The fans have truly been the best part about our career. Hearing their stories about how our music has helped them through a tough time or been a soundtrack to the best parts of their lives, from weddings to proposals, is always a humbling experience."
HBM: What tips do you have for others who want to get into the R&B industry?
SS: "Perfect your craft and be persistent! As a group, Nate, Wanya and I used to spend our free time singing in the bathrooms of our high school because it had the best acoustics. We put on shows and made sure we did everything we possibly could for our voices. We never gave up and that is what I would tell any young artist to do today."
HBM: Where do you see the future of the R&B industry? What might change or stay the same? 
SS: "The industry is already shifting. When we started Boyz II Men, there wasn't social media, YouTube, or easy ways to be discovered. I think as more and more platforms become available for people to show their skills, the more R&B will grow."
HBM: What is next on all of your bucket lists?
SS: "Next up, we want to have all of our fans drinking Harmony Wine—our latest venture—at a concert. Hopefully, we'll be able to make this happen next year!"
Contact: shannahch@gmail.com
The post Boyz II Men Member Shawn Stockman on Their Charity, Tips for Aspiring R&B Artists & More appeared first on Home Business Magazine.
Original source: https://homebusinessmag.com/lifestyles/boyz-ii-men-member-shawn-stockman-charity-tips-aspiring-rb-artists/