When January 1, 2020 came about this year, it couldn't have been predicted what was to come. 2020 has certainly been tumultuous, and one major cultural shift has been seen in the rise of remote working. Home-based business owners now have that common ground with corporate individuals.
At-home working is tying many groups of people together, leading to stronger virtual connections and innovative ways of implementing ideas. The business world has adapted to this "new normal" and it's suggested that 16% of remote workers will stay that way for a long time after the pandemic is resolved. During lockdown, the holidays were always on the horizon as something to look forward to amidst the shutdowns. Regardless of all the unrest, the cherished holidays would come to be.
This holiday season takes on a new energy as trips have been cancelled left and right. In lieu of travel plans to the mountains of Big Bear Lake or the coast of Miami for a warm getaway, many entrepreneurs are choosing to stay at home. Though there are always video calls, it's still immensely tough on families around the world separated due to COVID-19 concerns. This makes sending an uplifting gift to a loved one all the more beneficial!
Take a look at these truly wonderful products that will make for perfect holiday gifts.
Rosepops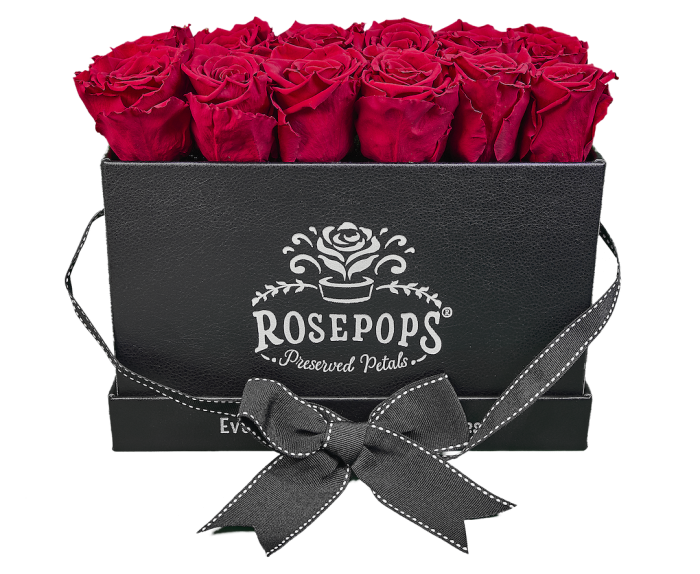 Rosepops are a creative, eye-POPping way to brighten someone's day! As a beautiful holiday gift, Rosepops are fun, charming, elegant and affordable! Rosepops roses are 100% real and organically preserved to last one year or longer. Even better? Each Rosepop arrives in artfully crafted, premium packaging that pops up for a delightful floral gifting experience! The gifts feature roses that pop up from their gorgeous packaging with the pull of a decorative ribbon. Their creative packaging comes in different shapes and sizes and a rainbow of rose colors to choose from. Each POP has a place for a personal message to be artfully inscribed inside its lid for a forever keepsake.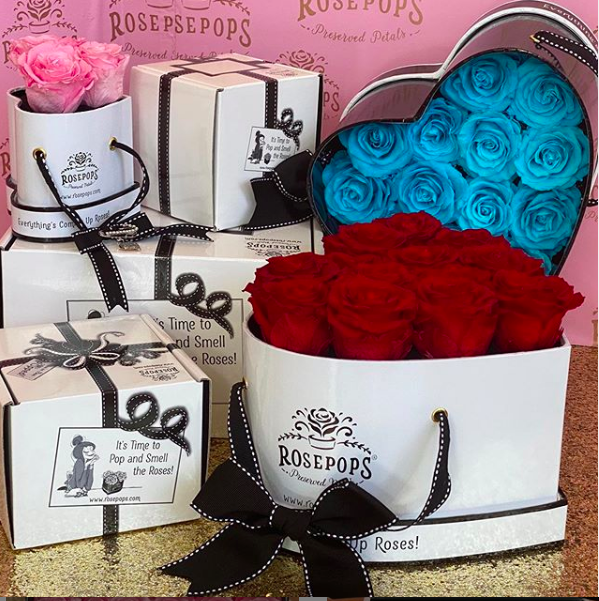 There are many unique ways to customize to really make the surprise POP, including options to monogram, add a photo, choose a charm and more. Roses are sourced exclusively from Ecuadorian growers for the most beautiful blooms. These roses are more affordable than other preserved rose purveyors, without any compromise on quality or beauty. Fragrant and fanciful, Rosepops has customers nationwide POP'ping to smell the roses every day. Prices range from $28-$100+.
A Bar Above 4-piece Craft Bar Set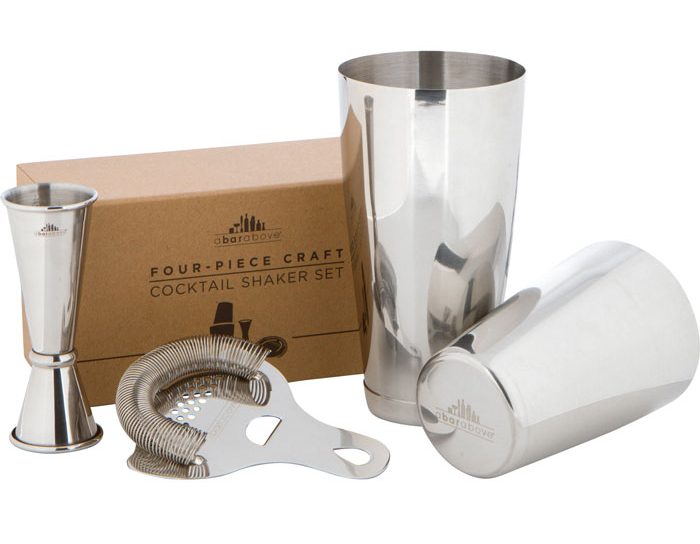 Because Holiday Parties Look so Different in 2020, A Bar Above launched their virtual holiday party! There are various different packages available, and can be customized to each company/group looking to host an unforgettable (yet safe & socially-distanced) holiday event. The base-level holiday party will include a 4-piece Craft Bar Set for each participant, plus bar spoons, as well as a pre-recorded Drink Mixing Tutorial, and complete shopping list of items ($60 per person). This craft bar set is the best of the basics. This core kit includes the three tools you need to make most common cocktails: a trusty two-piece Boston shaker, a Hawthorne strainer with extra-tight spring, and a two-sided Jigger with measurement lines all the way down to 1/4 oz! Set is made from Stainless Steel 304 (that's the high-quality, food-grade kind), polished stainless steel finish, and welded to last — all welds are reinforced, so these tools won't rust or fall apart. All pieces come in one giftable box! Folks can even level up their holiday party experience with three different upgrade options.
Office Plants from Steward's Plant Parenting Kit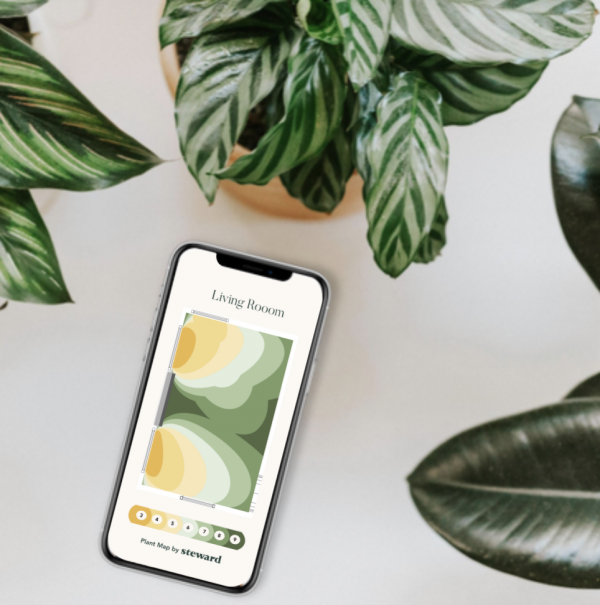 Steward, the most advanced plantcare app around, has released two gift subscription services for you to gift the entrepreneur in your life the perfect office desk plants — and take care of them, too! Your recipient starts by scanning their home office with the Steward app, which creates a unique map of their room's lighting conditions to determine the best plants for that space. Steward will then work with their local plant shop to deliver the happiest, healthiest plants.
Once they have their plants, Steward shows your recipient how to take care of them, with personalized plantcare suggestions that update by the season, as well as a team of Plant Doctors available to diagnose any issues. Choose between the starter Plant Parenting Kit to send up to 3 desk plants with 3 months of Steward subscription, or Year of Plants to gift up to 12 plants for a Zoom-worthy office call background! Plans begin at $49 and go up to $299 for the year.
Eternal Fleur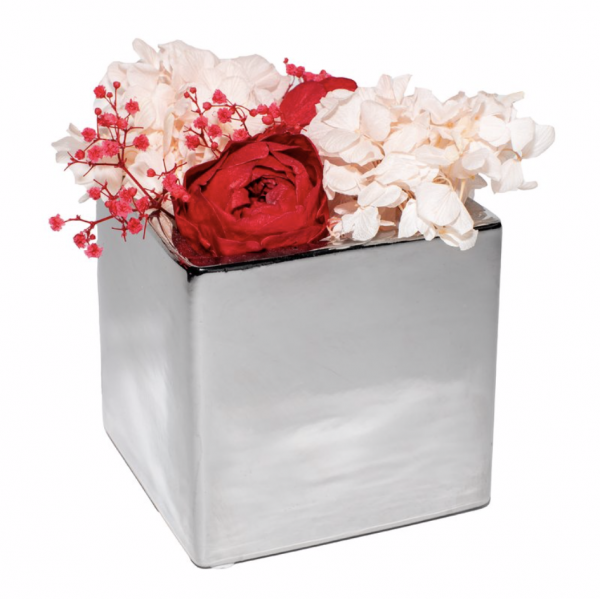 Eternal Fleur (www.eternalfleur.com) is a woman-owned company that specializes in real floral arrangements preserved to last 365 days+ without water or sunlight. The company was Launched in Dec 2017 by then 25-year-old Amanda Wotjas [pronounced Voy Tas], who had always wanted to run her own business, having worked at male-dominated companies since graduating from New York's Fashion Institute of Technology. She picked flowers because they make people happy. Recognizing the fresh floral industry was quite saturated, Amanda focused on long-lasting arrangements.
Featured above is Peonies De Luxe, which is a part of their Four Season Fleur™ Le Jardin Collection. The style is inspired by a French Formal Garden and made with Four Season Peonies™, Four Season Hydrangeas™ and Four Season Gypsophila™. It's the perfect touch to your home and office space. Feel like you're in France with flowers that require no water, no sunlight, and lasts 365+ Days™. Peonies De Luxe is priced at $155.00.
Tree for Entreepreneurs
Not only is a tree a universal gift which fights climate change, creates habitats for endangered animal species and jobs for local communities. But this special "Tree for Entreepreneurs" also supports a local entrepreneurship school in central Ghana.
Unemployed young people learn here how to create a better future for themselves. Hence, this tree does not just delight the receiving entrepreneur, but also multiple further entrepreneurs in the heart of Africa. And, even better, this timeless gift can also be gifted location independently. No matter whether we'll be affected by a lockdown or because we're far apart from each other — this gift works under any circumstances. Price is $25.78.
The "Congrats, Boss!" box from Small Packages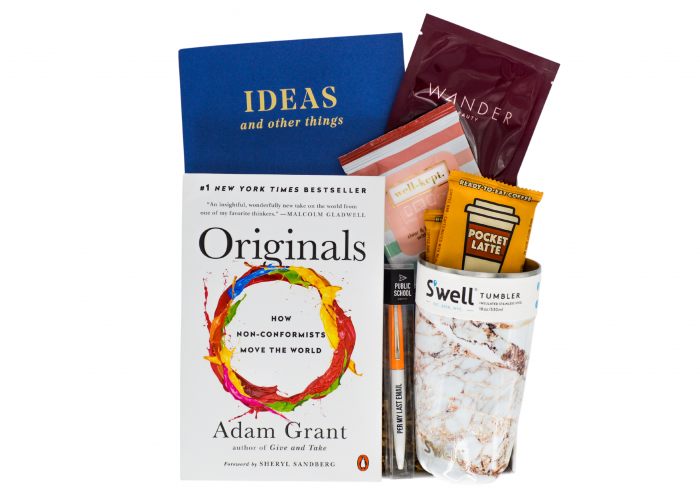 Looking to send a gift to a Boss Babe this holiday? Send her the "Congrats, Boss!" care package from the award-winning Small Packages this season.
With items ranging from a notebook and pen to jot down all her genius ideas, to edible "Pocket Latte" coffee squares that let her stay caffeinated without the risk of coffee spills on the home office carpet, to handy screen wipes and more, the Congrats! Boss box celebrates the woman in your life who is kicking butt and taking names. The box comes in 3 sizes to fit every budget: $35, $50, and $100, and includes a handwritten letterpress card to the recipient.
A Custom-made, Unique Gift Set from ThankYouKindly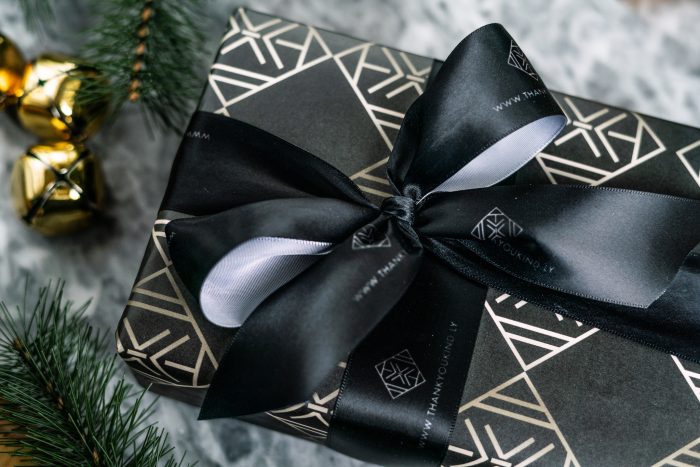 Don't know what to choose? Let the professional gift concierges at ThankYouKindly create a custom gift set just for your recipient! ThankYouKindly creates whimsical custom gift sets that are hand-made (or handbaked, hand-embroidered, 3-D printed, laser-engraved, drawn, or even carved) by their artisans to create a truly unique gift personalized to your recipient. Every gift is totally different and tailored to every recipient. Entrepreneurs will especially appreciate gift sets that come with their logo and branding. Even better? ThankYouKindly offers quick turnaround gifts for last-minute gifting. The price fits your budget, with gift sets starting under $100.
Wandering Bear Holiday Kits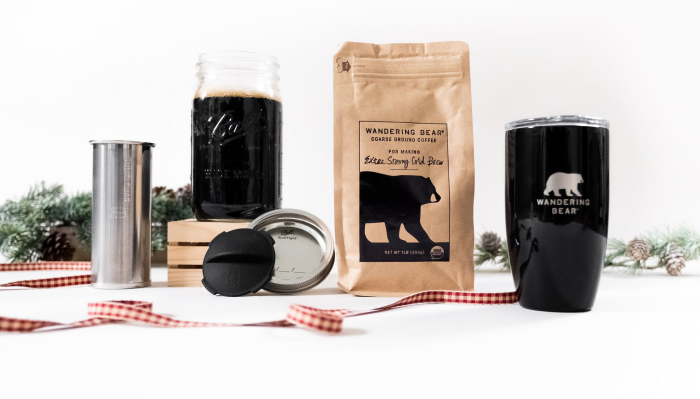 Wandering Bear, the first coffee brand to put cold brew on tap, will be offering consumers two new ways of enjoying their extra-strong, organic coffee from the comfort of their home with Holiday Kits. Available for purchase this month, both kits are online via the brand's website and on Amazon.
Extra Strong Cold Brew Homebrew Kit has everything you need to make Wandering Bear's flagship cold brew at home! DIY to enjoy extra-strong cold brew that is small-batch roasted, dark but not burnt, full-bodied and chocolaty. Gift price is $49.00 (includes shipping + tax). Kits includes 1 Rumble Jar Cold Brew Maker, 1 32oz Ball Glass Mason Jar, 1 16oz Limited Edition Wandering Bear Insulated Thermos, and 1lb Wandering Bear Coarse Ground Organic Coffee.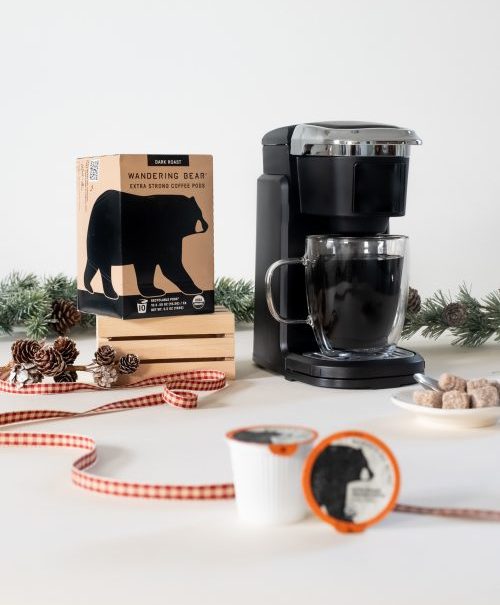 Extra Strong Coffee Pod Brewer + Pods is also available. Wandering Bear rolled out the strongest coffee pods on the market earlier this year and now are giving you a way to brew them. Each extra strong cup is bold and fully-bodied but not bitter, using 25% more coffee to deliver 250 mg of caffeine. Gift price is $79.00 (Includes shipping + tax). Kits include 1 Single Serve Extra Strong Coffee Brewer and 10 Wandering Bear Extra Strong Organic Coffee Pods.
Dragon Glassware's Luxury Drinkware Sets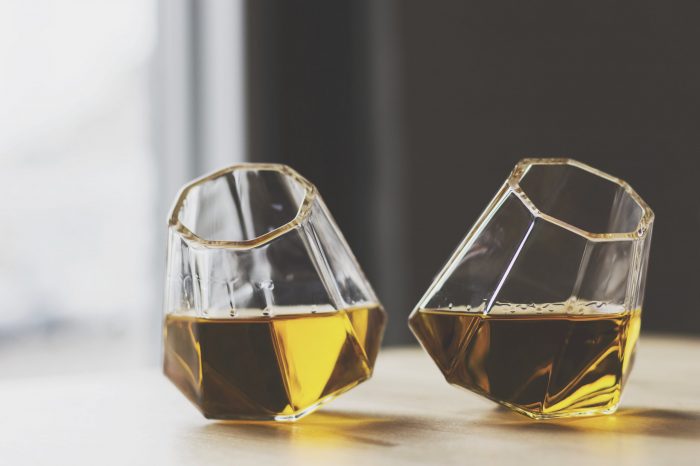 Diamond Whiskey Glass is beautifully positioned at an anti-rocking, spill-proof, 50-degree tilted angle for a superb drinking experience. Inspired by diamonds, the unique shape allows your drink to aerate as it is poured. This glass fit for rock-star entrepreneurs is perfect for whiskey, bourbon, scotch, wine — any drink of choice! It has a 10-ounce capacity, and is dishwasher and freezer-safe. These glasses will be a radiant addition to any glassware collection or as an essential bar accessory! Dragon Glassware's luxury drinkware sets are perfect for the drink enthusiast.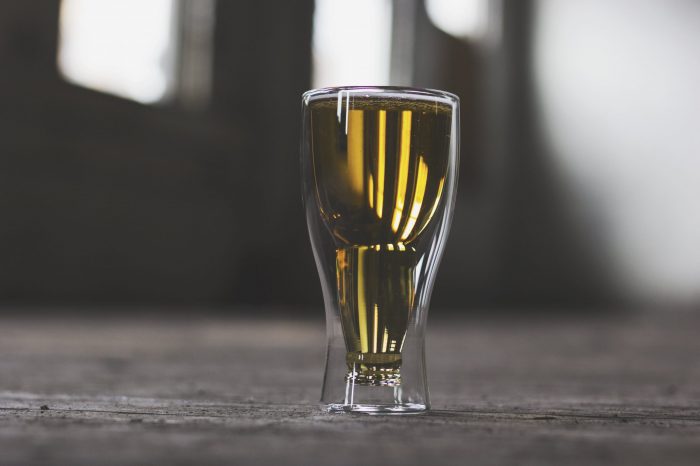 Upside Down Beer Glass by Dragon Glassware is designed with double-walled insulation to keep beer colder, longer. It has an innovative "upside down" design that allows 13 1/2 ounce capacity. It will hold a full bottle of your ice-cold refreshing beer during your holiday Zoom calls with family! All of their products come in ready-to-gift packaging as well. Sets of glasses start at $26.99.
To Be Decorated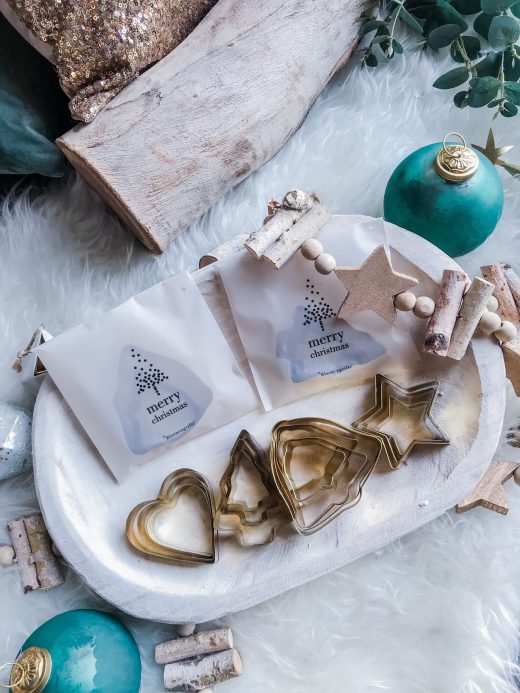 Get into the festive spirit with To Be Decorated's curated boxes. TBD's creative designers take the guesswork out of how to tie your space together or inject a fresh style with carefully curated boxes for the home, dining room, kitchen, garden, and more! Whether it's for yourself or someone else, make gift-giving easy with TBD. Choose one with holiday decor, one for entertaining or one that would be a perfect present! Price starts at $75.
Armitron Watches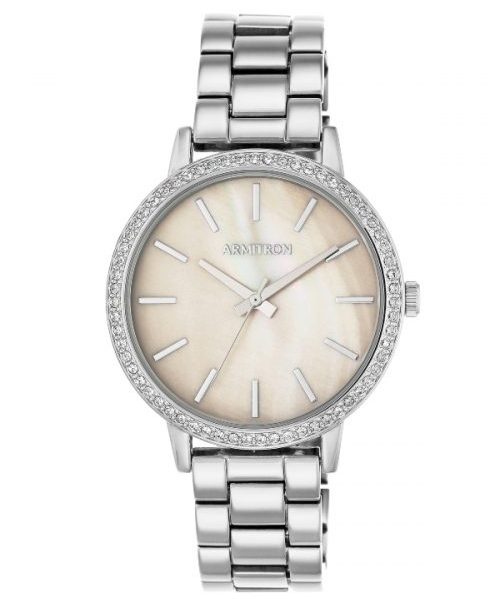 Armitron watches are sure to be the perfect accessory for a business casual or fancier look! A family owned and operated brand for over 40 years, they have some quality and affordable gift options for men and women. Featured above is the GRACE 43 SWAROVSKI. It has 12 indices and Swarovski crystals decorating the dial highlight. This timepiece's stunning design can fit a wide array of looks. Armitron watches will help entrepreneurs stay on schedule — even at home!
PatPat's Family Matching Fun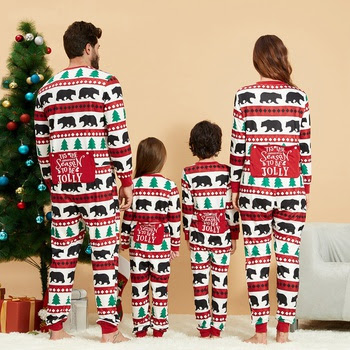 It's a family affair! Get in a festive frame of mind and check out holiday matching outfits for the whole crew (and the dogs too) from PatPat! Choose from onesies to hooded antlers to the Care Bears Family matching and more! PJ pricing: Baby sizing: $14.99. Ages 2-11: $15.99, Women: $23, Men: $24.99.
Monday Gin Holiday Gift Pack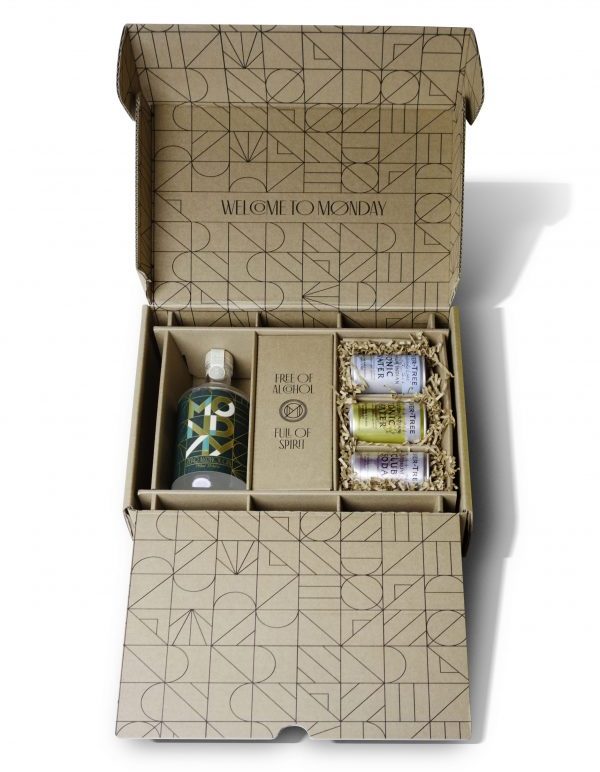 This brand new beverage is a great gift for alcohol avoiders or the sober curious. Monday Gin is made with a proprietary blend of natural juniper, herbs, citrus, and spices — delivering a classic London-dry gin taste profile without the downsides of alcohol.
Just in time for the holidays, Monday is proud to introduce a gift set in collaboration with their friends at Fever-Tree. Perfect for that someone looking to drink a little less alcohol this time of year yet wanting their favorite flavors to cheers with at the holiday party. The gift set contains one bottle of Monday Gin, which has zero alcohol, zero calories, zero carbs, zero sugar and is vegan and gluten-free. It also includes 3 cans of Fever-Tree, which is premium Indian Tonic Water, Refreshingly Light Tonic Water and Soda Water. You'll also find 1 recipe card. Available at DrinkMonday.co for $49.99.
Calidad Gift Set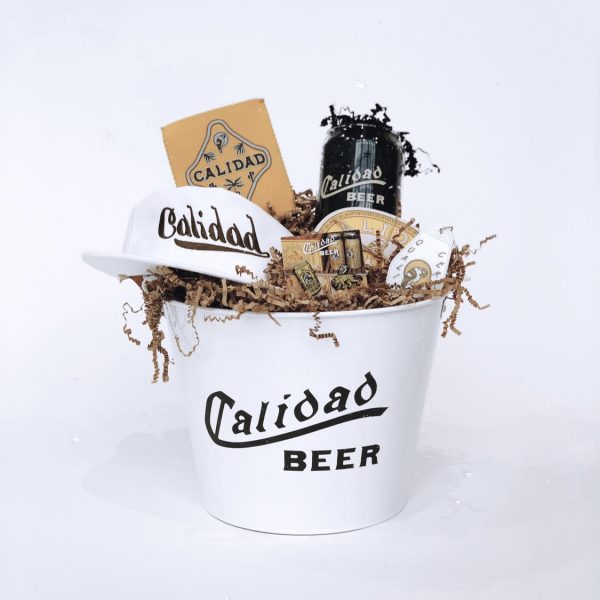 Give the gift of Calidad this holiday season and grab one of these limited edition Calidad Gift Sets before they are gone. Featuring the Calidad While Hot Logo Cap, Pint Glass, Pin Set, Vintage Key Tag, Koozie, and Coaster Set. Available at Calidadbeer.com for $45.
The post Holiday Gift Guide 2020 – Products to Brighten Spirits This Season appeared first on Home Business Magazine.
Original source: https://homebusinessmag.com/lifestyles/success-lifestyles/holiday-gift-guide-2020-products-brighten-spirits-season/