Imagine you are spending money on traffic generation, you are running multiple marketing campaigns to drive targeted traffic, but your website isn't accessible. How'd you feel? An inaccessible website ruins everything ranging from marketing to conversions, to user experience, revenue, and more.
If your target audience can't use your website the way they want, what's the point of having a website?
Research, however, shows that a whopping 98% of web pages have some kind of accessibility issues. This means potential buyers can't use your website (for any reason) and they're left with no option but to leave your website.
Things get worse when your business is sued for not having an accessible website. Such lawsuits are quite common in the USA. In 2019, 2,256 lawsuits were filed across the USA for website accessibility issues.
Making your website accessible isn't a big deal. You need to identify and fix issues that restrict people with disabilities from accessing and using your website. This article covers in detail how you make your website fully accessible on complete autopilot.
But first…
What Is Website Accessibility?
The Web Accessibility Initiative says that when websites are designed and coded appropriately, people with disabilities can use them without a problem. People with any disability (e.g. auditory, physical, speech, visual, cognitive, or neurological) can interact with your website the way they want on a device of their choice without any problem whatsoever.
Making your website accessible isn't just limited to disabled individuals, but it makes it easy to use and interact with for everyone. Accessibility improves user experience. Here are examples to check out. They show why website accessibility is an important part of website development and design. You can't ignore it whatsoever.
How to Make Your Website Accessible
Making your website accessible starts with a complete audit of your website. W3 has listed complete steps that show what you have to review and how to fix accessibility issues. For example, it shows you how to write alt text, how to make the text on your website accessible, what font size to use, etc.
If you have a small website with a few pages, you can quickly make your website accessible by fixing all the problematic areas. But if you have a large website with hundreds of pages and posts, it will get complicated.
You can use an automated accessibility solution that will scan your website (irrespective of its size) and make your website accessible on autopilot. accessiBe is the fully automated AI-powered web accessibility tool that makes any website accessible in under 48 hours.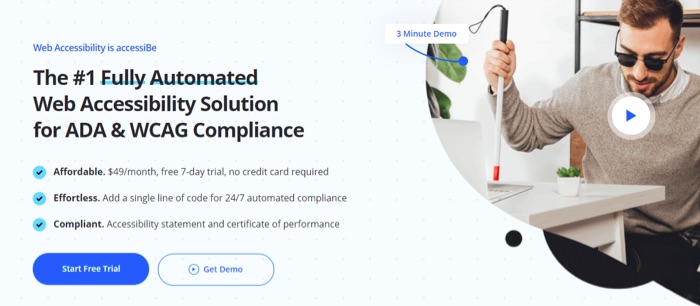 accessiBe, unlike other accessibility services and plugins, is a cost-effective, fully automated, quick, and exceptionally easy-to-use tool. The best part: accessiBe's solution makes your website WCAG 2.1, ADA, and Section 508 compliant. This means you won't receive any accessibility lawsuits once accessiBe scans and makes your website accessible.
As soon as you install accessiBe on your website, it adds an accessibility interface on your website that allows people with disabilities to use your website by selecting an appropriate profile. When a profile is selected, accessiBe tweaks your website accordingly, making it usable for the disabled visitor.
Want to see this interface in action? Visit TNW that is using accessiBe to make its website accessible for all types of visitors. Click the blue icon in the bottom right corner. The accessibility interface will pop up that users can customize based on their disability.
Here is how accessiBe works:
Create an account with accessiBe and grab your JavaScript code.
Add the JS code on your website. It will enable the accessibility interface right away.
The accessiBe's AI tool will scan your website. The maximum time needed for scanning is 48 hours.
Once the scan is completed, your website will be fully accessible (and compliant).
That's how simple it is. A single line of code is all you need to make your website accessible.
Final Thoughts
Making your website accessible isn't an issue anymore. accessiBe has simplified and automated website accessibility for businesses. You don't have to do anything manually, as it is all automated.
Accessibility isn't about disabled people, but rather it helps everyone in using your website in a way they like. It is time to improve your website's experience.
The post How to Make Your Website Accessible for Everyone appeared first on Home Business Magazine.
Original source: https://homebusinessmag.com/businesses/website-development/make-website-accessible-everyone/