Studies show that over 60% of people are visual learners and 90% of information that comes to our brains is visual. And screen recording is one of the best visual contents to improve efficiency in your business promotion, negotiation, and employee training. By recording the screen, you can record a demo of your product, archive virtual conferences, make tutorials for trainees, etc. And in daily life, you can teach your families to use computers intuitively, record online courses and live shows and games, etc.
Capturing the screen on smartphones seems like a cinch with easy access to built-in screen recorders and free tools in the app store. But when it comes to the desktop, there is no luck to get the best screen recorder without multiple failures. You might be enticed to install screen recorders with watermarks, time limits, or awful video quality.
But don't be frustrated. We've found the best software to capture the computer screen in high definition, as well as some useful built-in screen recorders on your computer.
How to Record Your Computer Screen with VideoProc
VideoProc, a feature-rich screen recorder, has served millions of individuals and small businesses all around the globe. It has the capability of recording Windows and Mac in 3 modes — Screen, Webcam, and Screen & Webcam. And in the webcam recording mode, developers added the chroma keying feature (green screen) for users in need of virtual backgrounds. To help users explain what's happening on the screen better, VideoProc allows capturing the screen with both internal and external sounds and some painting and texting tools.
And the real benefit of VideoProc is the HD output. After setting the recorder to High Quality, you can get HD videos and export them in any format you want, for instance, MOV, MP4, FLV, TS, and MKV. By its level-3 hardware acceleration tech, the recorder runs smoothly on all recent computers, even when you are running multiple tasks.
Now let's see how to use VideoProc to record your computer screen: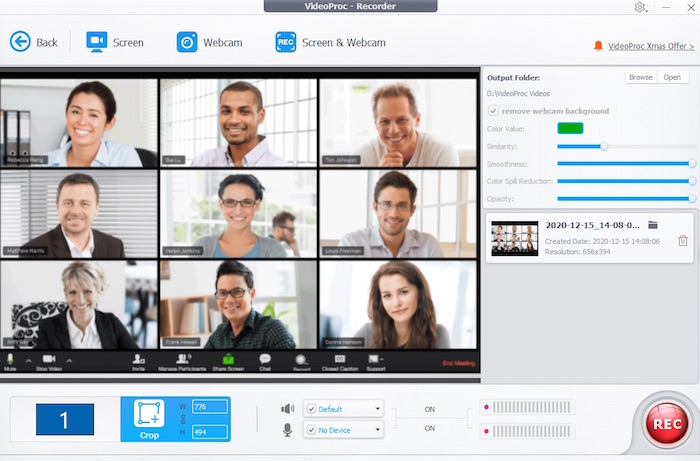 Open VideoProc and choose "Recorder" on its home page.
Select a recording mode and make sure that you enabled the audio recording.
It records the full screen by default. You can customize the recording area by clicking Crop on the screen.
Click "REC" to start recording the screen.
When you finish recording, hit the stop button. You can preview the video in the file folder.
Optional: If you make some mistakes during the recording, don't forget that VideoProc is also a piece of video editing software that enables you to trim, crop, merge, adjust audio and speed. Just reload the clip to VideoProc, and edit it as you like.
Next, we'll reveal some built-in software with screen recording features on your computer. If you find them not as perfect as you expected, don't be too picky. They come to your rescue while costing nothing, after all. To enjoy more features, you can try the powerful third-party screen recorder VideoProc with steps above.
How to Record the Screen with Xbox Game Bar on Windows 10
Xbox Game Bar was originally developed for capturing the screen and chatting with game friends across Xbox consoles. It runs excellently when you are playing a game and it also provides a CPU performance overview for you to monitor the system performance in real-time. That's why it is one of the most recommended gameplay screen recorders. Later, it is used by more users to record webinars, make tutorials and screencasts on Windows 10.
Preparation: Make sure that you've got this program on your PC since it's only supported on Windows 10 version 17763.0 or higher and Xbox One. You can check it by typing its name on the Search Windows toolbar. If it's not installed, update your system and download it to your PC. Then follow the steps below.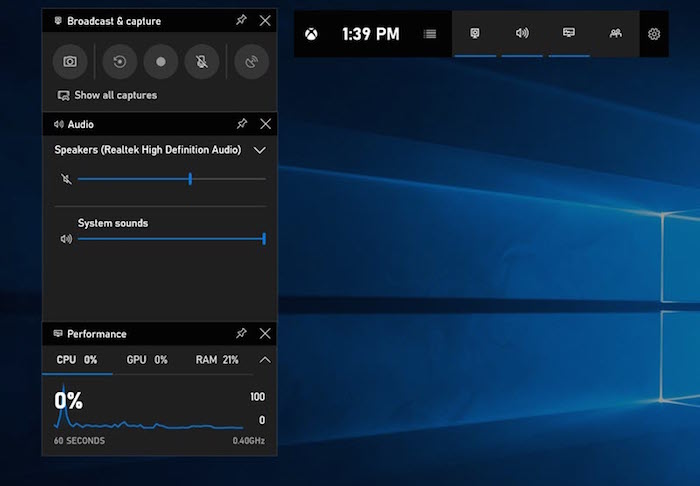 Hit "Win + G" keys at the same time to activate Xbox Game Bar.
If you need to record a voice over, click the microphone icon to turn it on.
Press "Win + Alt + R" to kick off the recording.
When you finish recording, click the stop icon. Game Bar will save the clip on your computer automatically.
Then a sign that says "Show all captures" will pop up in the Broadcast & capture widget on your screen. Click it and get to the folder containing the recording.
Fix No Sound Issue in Game Bar Recording
Click the setting icon on the upper side widget, and go to the Capturing option and check whether you disabled all audio recordings.
Go to Settings > Privacy > Microphone, then toggle on Game Bar to allow it to record the system sound.
How to Record the Screen with QuickTime Player on Mac
QuickTime Player is a built-in app on Mac (High Sierra and later). It allows users to play, edit, and share video files, and capture what's going on on the screen. It was developed as a simple and convenient tool without any complicated parameters for beginners. And if you are stick to native software, QuickTime Player is surely a good free screen recorder.
Let's start the tutorial on how to record the screen in HD along with the microphone and system audio in QuickTime Player.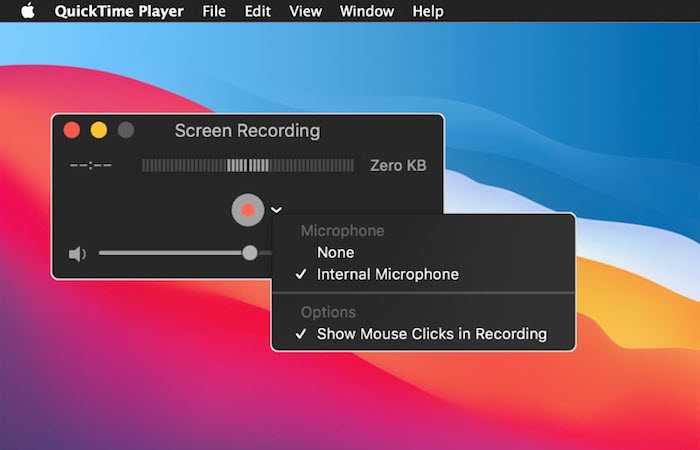 Go to "Application" and launch QuickTime on your Mac.
Get back to the desktop, and navigate to Menu > File > New Screen Recording.
When a recording bar pops up on your screen, click the drop-down menu to modify the microphone and video quality settings.
Hit the red recording button, and click to record the full screen, or drag to record a portion of the screen. Then hit the gray button that says "Start Recording".
Click the stop button in the menu bar when you want to end the recording.
It will play the video right after recording. Now save it by pressing "Command + S".
Final Words
Recording the screen is not a complicated task, and native tools on your computer can complete this for you in an easy and fast manner. But built-in screen recorders are less versatile than commercial software. If you want a better grip on your recordings, e.g. editing, converting formats, and compressing video files, we'd recommend the all-in-one program, VideoProc.
The post How to Record Your Computer Screen for Free on Windows and Mac appeared first on Home Business Magazine.
Original source: https://homebusinessmag.com/home-office/computers-and-software/how-to-record-computer-screen-free-windows-mac/