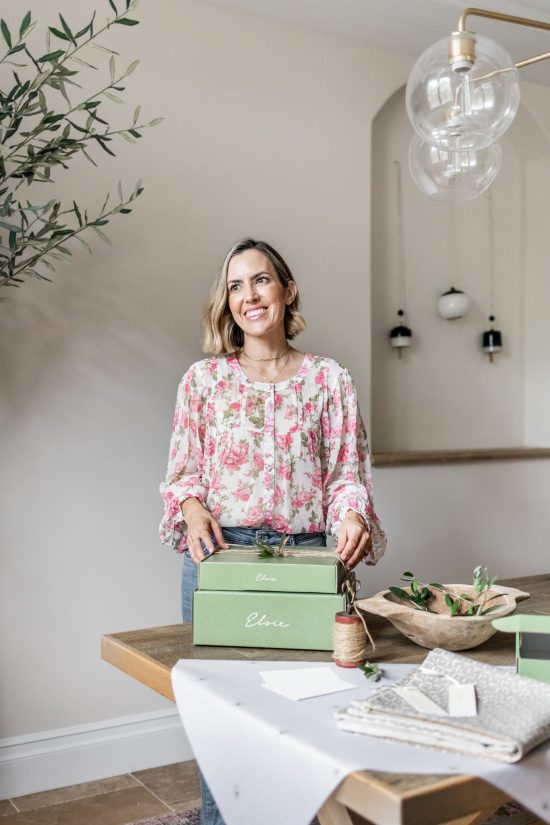 By Whitney Litz
Lauren Meichtry was a stay-at-home mom for five years, but always had a passion for design. She thought that she had to choose between the two — being a mom or pursuing her passion, but she soon realized that she could do both. Lauren was gifted a vintage sewing machine from her Grandma Elsie and had begun creating pillows for her own home. Eventually, a good friend and old co-worker of Lauren's, who had witnessed her passion and potential, asked her if what she was doing was enough for her. When Lauren took the time to really think about the question and be honest with herself, she had found that the answer was no. Lauren wanted more and she knew that she was the only person that could make that happen for herself.
Designing and creating pillows had been a passion of Lauren's since the moment she was gifted Grandma Elsie's vintage sewing machine. In fact, pillows were the first thing Lauren learned how to sew. Eventually, her husband began researching fabric vendors in their area and sent Lauren off with a list of places to visit. The first stop on her list was a showroom in West Hollywood, Hollywood at Home. From the second Lauren began feeling their different fabrics, she knew she had found her calling. She immediately lit up and found herself transforming, both personally and professionally. Lauren even began buying new clothes to help her look on the outside how she was feeling on the inside.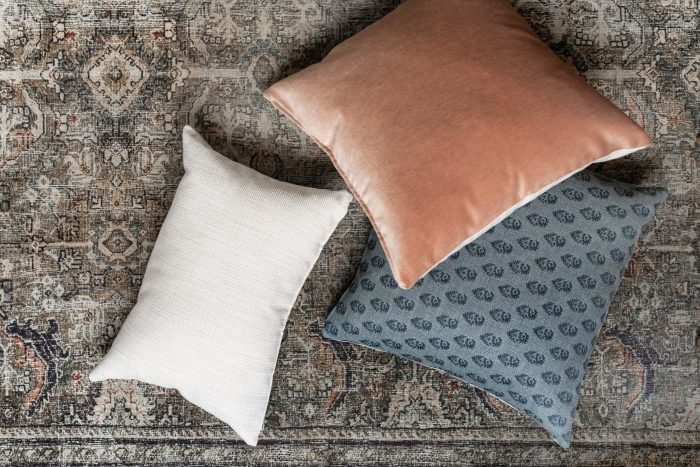 Being a stay-at-home mom for so many years, Lauren really dedicated her entire life to her children and did not spend much time filling up her own cup. The minute she gave herself permission to do exactly that, there was no stopping her. Lauren drew out their first logo, had it digitized, and then ordered tags and stickers for packaging. Prior to launching, Lauren would work with a professional branding studio who would help her refine and recreate her branding package. Lauren ordered yards and yards of fabric, and would spend every waking hour she had sewing pillows from home. After creating about eighty or so pillows, Lauren realized how crucial it was to her business that she found a manufacturer. This would be one piece of the business she could easily get off her plate.
Lauren's plan was to launch her business with a wide variety of in-stock pillow options, meaning they would ship out within a day or so of the customer ordering them. In order to do that, Lauren needed tons of pillows and she knew she could not make them all on her own. She began calling every cut and sew shop she could find in the Los Angeles area and was met with no after no. Since many of these cut and sew shops in LA make apparel for large companies such as Bloomingdales and Nordstrom, they unfortunately did not want to bother with a brand-new pillow business. However, Lauren was not going to take no for an answer. After weeks of searching, she finally found a shop that agreed to make her pillows. Lauren spent countless hours at the shop, mapping out the most efficient way to use each yard of fabric she had.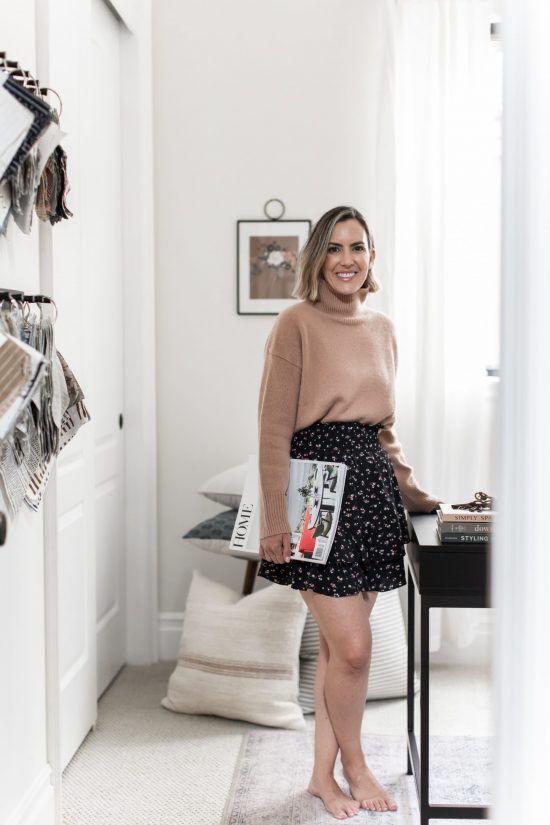 Of course, there were a few hiccups along the way. For example, they ran into quality issues and if Lauren did not call the shop multiple times, she would have never received her pillows. She even ended up at the shop owner's home at one point throughout the process. Eventually, however, Lauren had enough pillows to launch the shop! She worked with an incredible team in Los Angeles to help build their website exactly the way she had imagined it. Lauren found the importance in investing in their branding, photography, website, and packaging before she introduced her designs to the world. She wanted to avoid having to play catchup down the line and felt that her investment at the start would be worthwhile. Lauren believes this may have been the single best decision she has made in terms of her business.
From the original idea of creating this pillow business, to the day her website launched, was just short of one year. On November 1, 2019, their website went live. Elsie Home's first customers were, of course, members of their family and good friends of theirs. This allowed them to work out the kinks of the business with individuals who loved them and supported their business. Presently, Lauren handles every aspect of their business besides the actual making of the pillows. She did an immense amount of outreach to interior designers to help grow their business and in fact, interior designers make up approximately 75% of their current business. Elsie Home has been featured in Forbes, Martha Stewart Living, House Beautiful Magazine, and South Bay Home Magazine, just to name a few. Lauren's business is still in their infancy and they are excited to have the opportunity to continue growing in the coming years.
The post Lauren Meichtry Follows Passion and Builds a Successful Pillow Brand appeared first on Home Business Magazine.
Original source: https://homebusinessmag.com/success-stories-lifestyles/lauren-meichtry-follows-passion-builds-successful-pillow-brand-home/