According to Google Trends, the search term "WFH" (working from home) surged and peaked from March 15-21, 2020. The sudden lockdown due to Covid-19 was scary for most of us and many started to learn how to work-from-home and deal with all the uncertainties. Unfortunately, many were laid off, or lost significant pay, as businesses struggled to stay afloat. With no clear answers to exactly what is happening to all of us, economically, professionally and health-wise, we all became restless, feeling so much anxiety. Grave personal impact aside, as we approach a year of this virus affecting our lives in business, we have sadness for the opportunities and jobs lost during this tough time, but as the title of this piece suggests, there is a silver lining.
The search for "Side hustle" is rising, ahead of "WFH." We want to work, and have the autonomy to make time, money, and our schedules, work for us. This is coming to light perhaps because a good portion of the US workforce started to worry about their job security, needed more income to replenish savings accounts, and above all began exploring new possibilities to grow as a professional in seeking happiness in life. As I have mentioned in my previous article, a side hustle doing what you love and/or what you excel in is essential to start at your earliest convenience, if you plan to work for a long time, given the 100-year lifespan.
I think this growing interest in side hustles is going to be a major silver lining for the entrepreneurial-minded as we move into 2021. When you realize you can depend on yourself to make your dreams a reality, and know that you can take care of yourself and your family with your passions, the second half of your life begins.
Holidays are a wonderful time to relax and reflect. But since this has been such an unusual year, you may consider making a radical move. For example, with some eggnog in hand, why not surf and research what side hustle you could start today. Dreaming about opening your own online store? Sign up on Shopify and start learning how it works. Hands on experience only leads you to the next step. Amazon, Shopify, Esty, and Ebay — all of these offer great tutorials, low entry fees and you can experiment and learn how to do it. If you don't like it, no problem. You can call it just a holiday fantasy, and go back to focusing on your job and maybe look into investing. But what if you see some results? Go on and explore more.
On this Black Friday 2020, businesses on Shopify had $2.4 billion sales globally, a 75% growth from last year. Those are people who took the leap — why shouldn't you join them for next Black Friday?
Seven years ago during the holiday season, without knowing much, I took a plunge and opened an Amazon store for Chrysmela, the world's most secure earring back. Our products were already a big success in Japan, but I didn't know anything about retail, not to mention the mechanics of Amazon. However, I was so curious how Amazon helps entrepreneurs. Going in ready to learn made me so glad I took the time to start. I truly believe you should start doing, rather than thinking or worrying about what if. This pandemic gave us a chance — it's safe to take a little risk today, now that we faced and survived 2020.
I'd like to take the next few lines to recount the things I'm grateful for in terms of work this year, and what my plans are for 2021. I'd love to read your versions of this exercise as well!
What did you find as Silver lining of 2020?
To me,
We see more gratitude felt and expressed everywhere. Many things may have seemed given before — from FedEx, UPS, Internet, food supply chain — but there were always so many people behind the scenes to make it happen.
We are more resilient. I am, too. I thought I was pretty resilient before COVID, but turns out I was stronger than expected. My Chrysmela business not only survived, but sailed through the pandemic, as people started to wear masks and started to lose earrings when the backs were pulled out by the masks' elastic bands.
Teamwork at work and home. I love my husband and my Chrysmela team. They are my voice of reason. I am so grateful everyone in my immediate world, personally and professionally, has been so wonderful to live and work with, through "thick and thin." Knowing that we have survived something of this magnitude, together, is incredibly inspiring.
What are you looking forward to in 2021?
After surviving 2020, I personally feel more grateful and resilient. "Bring it on!" is my current mood. So, this holiday season, I am writing a letter to my future self in June 2021. When I was in a golf camp several years ago, the world-top ranked coaches Lynn and Pia of Vision54 asked the class to write a letter to yourself 3 months later, and they actually mailed it to us, three months later. I had completely forgotten about it. I was so surprised when I received it in the mail, and thrilled that most of the goals I set out have come true. It is an interesting and effective tool to imagine where you want to be in the near future, despite the uncertainty in the world. It's not a to-do list. It's all about your visualization, happiness and confidence.
So here is a draft of a letter to me. I encourage you to write your own, and maybe start brainstorming about your new side hustle 😉
To Mayumi of June 1, 2021,
Congratulations on Chrysmela reaching 1 million cumulative units sold worldwide! The celebration party in Paris looked amazing.
So nice to see you finally decluttered your office during the holidays, and have kept the serene space since. It's amazing you also purged your possessions by 30%. No spring cleaning was necessary this year!
Aren't you looking forward to visiting your mom and Chrysmela team in Tokyo soon? And a long overdue golf trip/work-ation in Scotland this summer?
It's good to see life finally going back to normal with a renewed sentiment of appreciation and gratefulness. It will never be the same, but new and better in many aspects as we make it so. How nice to know that.
Love,
M to M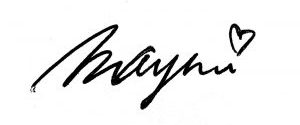 ***********
Happy Holidays to you all!
The post Side Hustles and Silver Linings of 2020 appeared first on Home Business Magazine.
Original source: https://homebusinessmag.com/lifestyles/success-lifestyles/side-hustles-silver-linings-2020/