Let's face it—the current COVID-19 pandemic has caused major, frustrating disruptions in our everyday lives. One huge issue has been the closings of gyms to halt the spread of the virus. Due to this, many entrepreneurs are now setting up their own in-home gyms to stay fit without having to venture outside. For those searching for the perfect exercise equipment for their home gyms, NordicTrack's iFit-powered Commercial S22i Studio Cycle will guarantee outstanding workouts!
You will love exercising with the S22i Studio Cycle throughout the pandemic and beyond. It is like having your own personal cycling coach in your home! Featuring a 22" HD Smart Touchscreen that rotates 360° and has a tilting display, the S22i allows you to do live-streamed studio cycling sessions with elite iFit trainers on your own schedule! You can also cycle on trails worldwide, from New Zealand to Japan, as the S22i has integrated Google Maps

0 workout technology.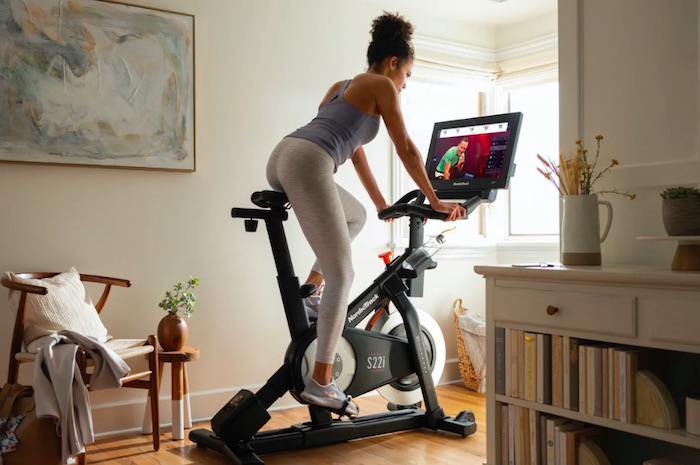 To help you stay focused on your workout, your trainer will digitally adjust your resistance (24 levels), decline (up to 10%), and incline (up to 20%). This is a patented iFit feature—no other platform can do it! The sessions also feature a live workout leaderboard so you can compete in real-time. You can also access thousands of on-demand cycle workouts, as well as cross-training options like strength training, yoga, and bootcamps.
The S22i Studio Cycle also offers yoga and mindfulness sessions to help you maintain a healthy state of mind. So whether you want to cycle through Grand Teton National Park in Wyoming or practice yoga on a serene beach in Bali, the S22i offers exactly what you need. The cycle also provides in-depth, personalized workout stats so you can stay plugged into your progress and crush your goals.
Even better—the S22i includes a pair of 3Lb. dumbells so you can work out your arms and shoulders. Also, no need to sign up for expensive monthly cycling memberships, as you get a whole 1-Year iFit Family Membership (you can create up to four profiles) for free! After this, the membership is just $468 a year. In all, NordicTrack's Commercial S22i Studio Cycle is an absolute must-have for all fitness-minded entrepreneurs. It retails for $1999 (plus a delivery fee) at www.nordictrack.com.
The post Stay On Top of Your Health with NordicTrack's Commercial S22i Studio Cycle appeared first on Home Business Magazine.
Original source: https://homebusinessmag.com/lifestyles/health-and-fitness/stay-healthy-nordictracks-commercial-s22i-studio-cycle/