Let's face it, video conference calls are here to stay.
Some companies were doing it constantly, but now, during the COVID-19 pandemic, most of us have been forced to adopt this new normal.
Zoom, Skype, Google Hangouts/Meet, or Microsoft Teams? There may be multiple reasons why a company prefers one software over the other, but they all do the same thing: connect you via video and audio in real-time with your colleagues, classmates, professors, employers, doctors for virtual consultations, and even litigation.
VR (virtual reality) and AR (augmented reality) are two solid options that could significantly improve our experience (like in the movie Ready Player One or the television series Black Mirror where you can flip a switch or turn on a device and your mind is there). But we're not quite there yet as the technology is still in its infancy. (Probably the controversial 5G technology would enable some devices to be created faster). So until you're able to customize your virtual avatar, get used to how you actually look right now during a meeting:
Here are some tips for a flawless video conference call to make the most of this new normal:
Because if most of our conference calls were real meetings, they'd look like this: 😀
Time
No one appreciates lateness for any reason. Like a real-life in-person meeting, you must be on time. Try joining the meeting a couple of minutes early (most of the platforms offer this option) and see if everything is going smoothly or if there's anything else that you need to change. For example, you might notice a stain on your shirt, so being early gives you the time to change it.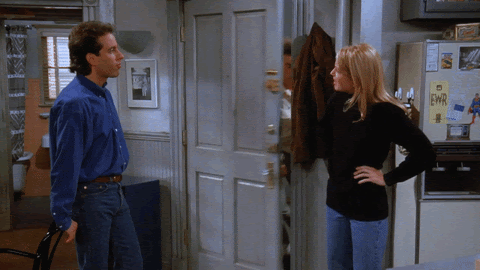 Name
Update your name on the screen. Most software requires you to add a name so be sure to spell it correctly, with capital letters, and if possible, include your title (this is mostly for video interviews).
You don't want to appear with user55435 when the recording is published.
Light
Light can make or break your image: it's more important than the background itself. If you are imaginative, you can play with the light to highlight or hide certain elements that you may or may not want to display.
Natural light is preferable, but that's not always a possibility, and it may not work from where you're streaming.
Like most of us, you will be broadcasting from inside so try to make the best of what you have. You can purchase some additional lighting to create a better experience.
Most vloggers use round (ring) lights, which are quite popular and affordable, giving that studio look to your stream.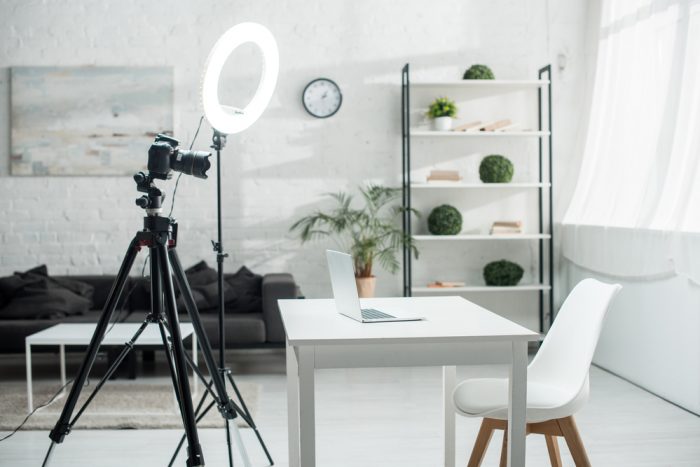 Be careful about where you place it, using a tripod for the best results. And remember: when you Zoom, you're live. Arrange your equipment before the meeting starts so that you're facing the screen (your interlocutor) and the camera at the same time.
Adjust the light to remove any reflection if you're wearing glasses (sunglasses are not recommended).
Background
There are many virtual background options available.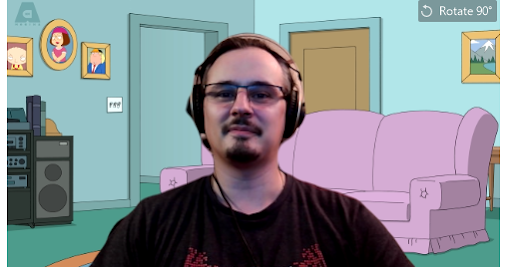 For non-virtual backgrounds, i.e., your living room, it's best to avoid mirrors or reflecting surfaces. Also ensure that no one is unintentionally bombing your stream (e.g.: your partner getting out of the shower naked).
Remember, most likely you'll be streaming from your home so keep it clean and uncompromising.
Clothes
What to wear? Dress accordingly, and not just from the bottom-up 🙂
Take into consideration the contrast your jacket is making with the background, and any filters applied to your video that might affect what you are wearing (especially on television).
Ensure your hair is combed and you look your best.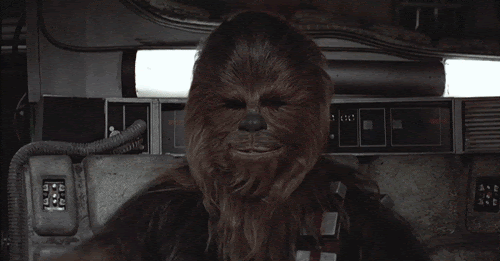 Voice
It's a good practice to have a glass of water nearby. Try to anticipate what else you will need for the meeting and have them close at hand.
Be careful with what you eat/drink — you may want to avoid acidity or a meal that you know irritates your stomach so you won't be burping all the time.
Unfortunately, I really do feel like I need to mention how much I dislike when I see someone eating/snacking. Way too many times, especially when more people are in a meeting.
Internet connection
Most of us use Wi-Fi nowadays, especially when we're at home. Assuming that you're on the fastest plan your Internet providers have, plug in a physical cable for the Internet connection. This will help with your transmission.
The device you're using
Try to use the latest, up-to-date technology. It can be expensive but it can also make the difference in your transmission. Sometimes, these things can cost a fortune (a new iPhone has the same price as a used car). That being said, don't use an old computer just because you have it and you want to put it to use.
Shut down any other program that might be running in the background and, even better, restart your computer before you go live.
Also, ensure you and the others connected to your network aren't downloading/streaming large files or watching anything on Netflix since all these can have an effect on your streaming.
Camera
Most devices come with a decent camera. But for a small upgrade, you could totally change how people see you and your recordings. A decent, high-definition camera is a worthwhile investment.
If you're passionate about photography or poses a DSLR, there might be a way to connect it to your computer. It tends to be a little technical but can totally make the difference.
Microphone
Like the camera, most devices have a built-in microphone, but it's not expensive to upgrade. For around $100 you can get a decent microphone with a stand. For example, Yeti is quite popular among podcasters and bloggers, and you can tell the difference.
Lavalier mics are also another solid option. It's small, hidden, and it gives the impression you're on television.
Note — if you're using a microphone or the laptop's mic, ensure that it sits at a proper distance, and test the sound in advance on solid ground (if you're using a tripod it shouldn't vibrate). Try placing it somewhere other than your desk, as it can pick-up vibrations from typing or hitting the desk by mistake.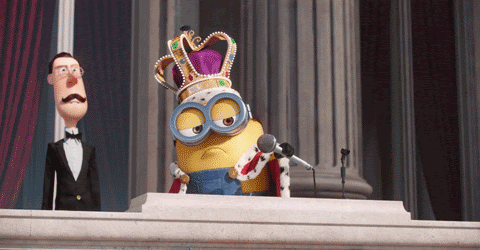 Headphones
Did you remember to charge your wireless headphones?
I prefer wireless earbuds. Apple brand can get expensive, but they're a good investment because they're small and discrete. Sometimes the others can't even tell you're wearing them.
I try to avoid big headphones, but they're better than no headphones, especially if they have a microphone attached.
It's a good practice to wear headphones for all of your online meetings since they cancel all the outside noise for you, so you can concentrate on the meeting and minimize disturbances.
Recording
You must ensure you got everyone's permission before you hit the record button.
Mute yourself
It's a good practice in large group meetings, especially since some software enlarges the image based on who's speaking.
Don't publish the meeting link in advance
We've all heard about the Zoom bombings, where people outside of your organization can jump in on your meetings. If they're silent, you won't even be aware that someone was there the whole time.
In order to minimize this risk, send the meeting just a few minutes before the meeting starts.
Be extra careful, constantly monitoring your meeting guests, and be mindful of what you're sharing (e.g., credit card numbers, personal information, etc.) — especially in large group meetings.
Wearing makeup?
If you've ever been on a television show, you know they apply some makeup on your face. There are lots of lights that change the way you are displayed on TV. In certain cases, not wearing makeup would be a huge disadvantage.
You don't need to wear makeup in your Zoom conference call, but if you do, just make sure it works with the lighting.
Recording on your phone?
This is where headphones are pretty much mandatory. Also, ensure you start with a fully-charged device: video conferencing can dry your battery out really quickly.
Hang up your Hangout call
After you're done with your conversation, make sure you hit the end call button. For example, if you're finishing a meeting on Hangouts and you just close the window that pops up during the conversation, you might be in for a surprise. The meeting is not closed, you just closed the window, but your colleague can go back to the meeting any time he or she clicks the conversation again in the chat box (or might actually still be in there if they never actually left).
The conversation has not ended; you just closed the window.
Pay close attention to this as you don't want the embarrassing situation of your colleague sharing your screen without you knowing. Or even worse, you might say something bad like I hate that guy! after you just closed the window, only to find that the interlocutor was still on the line (and sometimes that person can be your boss — Ouch!).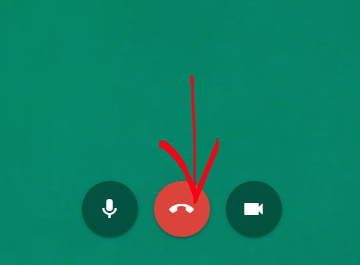 Relax and have fun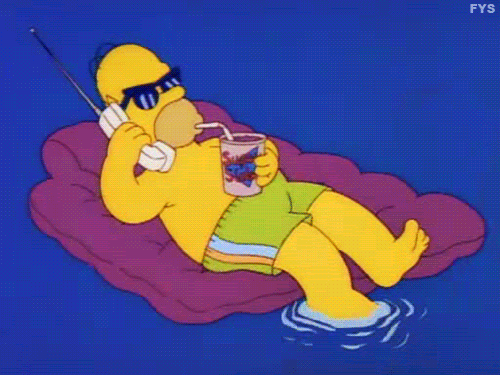 Most of us are not accustomed to being in front of a camera. Nevertheless, it doesn't need to be a traumatizing experience. Take it easy and try enjoying the conversation.
Sit in a position where you are comfortable.
Even when you're interrupted,
Just try to have fun with it.
The post Your Guide to a Successful Online Video Conference Call appeared first on Home Business Magazine.
Original source: https://homebusinessmag.com/businesses/success-tips/guide-successful-online-video-conference-call/